Everything You Wanted to Know About Mermaids
Photo by Alice Alinari on Unsplash
The northwest has plenty of connections to mermaids. There's that famous twin-tailed siren (a/k/a mermaid) logo on every Starbucks cup. A Mermaid Museum in Aberdeen, Washington. You can even watch real-life mermaids swim at the Sip n Dip in Great Falls, Montana! That's not the end of the list, either.
So why are we so fascinated by these mythical beauties? They are a myth, right? Where did it all start? Let's dive deeper (pun intended) into the subject and get some answers.
What is a Mermaid?
A Mermaid is half human, from the waist up, and half fish, with a long tail and fins.
When Did Mermaids First Appear?
Mermaids have fascinated people since they swam onto the scene in 1000, B.C., in a land now known as Syria.
Who Was the First Mermaid?
Atargatis is the name of the first Mermaid, who existed and was worshipped in Roman times. She was in love with a young shepherd, and she had his baby, but it cost the shepherd boy his life.
How Did Mermaids Get So Popular?
You can thank Hans Christian Andersen for that.
His fairy tale, The Little Mermaid, is a favorite passed on from generation-to-generation, beginning in 1837. Like Atargatis, it's about a Mermaid in love with a mortal human, but this tale turns out better. Ask Disney.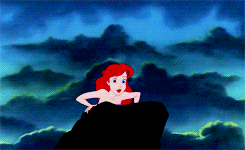 Were Mermaids Ever Real?
There's definitely evidence that mermaids are - or were - real. It's just not credible evidence. In other words: no, mermaids aren't real. Just a fantasy that people have kept alive since 1000, B.C.
Peek Inside This Gorgeous 1922 Waterfront Washington Home
A gorgeous 1922 waterfront home in Silverdale Washington is breathtaking to behold. Take a virtual tour inside this grand property that's for sale for 1.3 Million.
Inside Pink's $14 Million Malibu Home With Ocean Views
Take a look inside Pink and Carey Hart's for-sale $14 million Malibu home. The oceanfront home with panoramic ocean views formerly belonged to Barry Manilow.