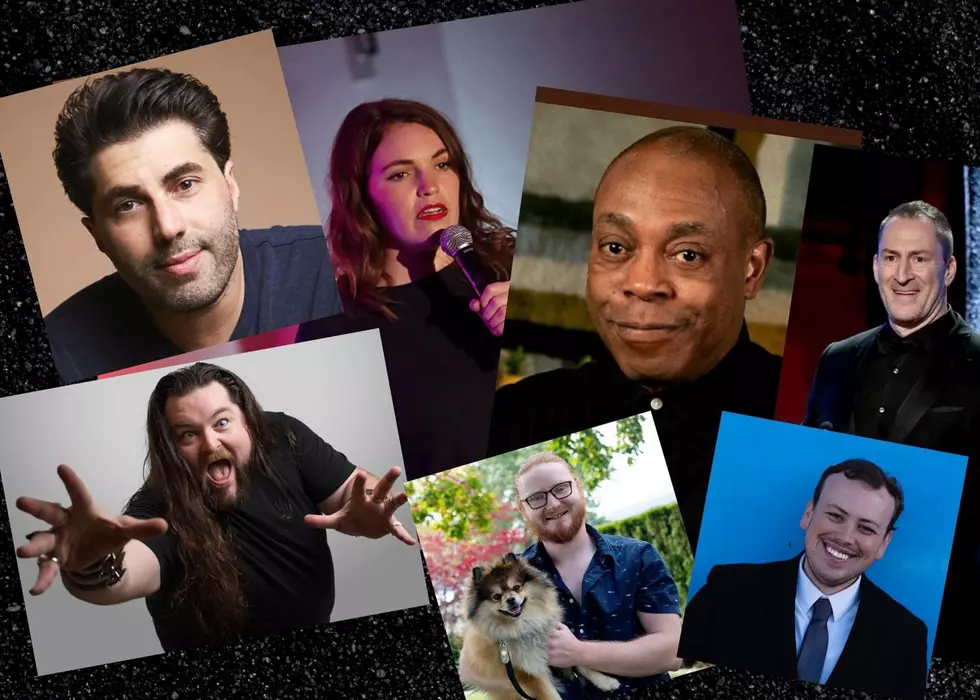 Laughter Guaranteed – The Northwest's Best Stand-Up Comedy
Getty Images, Facebook, promo images
It's another week of dirty jokes and spit-takes in the Northwest. Scroll through the whole list to find the comedian that's right for you. It's a good week for a two-drink minimum and some funny storytelling, with some very famous faces and brilliant up-and-comers.
Disclaimer: Assume the videos below feature content that is NSFW. Also assume that we aren't endorsing the thing they said that somehow offended you. Comedy is a rough sport. Wear your helmet.
Ben Bailey
Ben Bailey is the Emmy-winning host of Cash Cab - the only TV game show that takes place in a cab. Bailey has made guest appearances on pretty much every day-and-nighttime talk show, as well as appearances on 30 Rock, Parenthood, and other series and movies. He is also an accomplished comedian, with comedy specials on Comedy Central, and Netflix, so he's the real deal when it comes to stand-up.
Alex Elkin
Alex Elkin took 1st place in the San Francisco Comedy Competition. He is NOT "the dude from Lost." But he has appeared on TNT's Leverage, and NBC's Grimm. And he may be in some of your old vacation photos, as Elkin was once the skipper on the Disneyland Jungle Cruise attraction.
Ryan McComb and Rob Weintz
Two popular faces on the Spokane comedy scene are packing up and moving to a bigger city - Nashville. Ryan McComb has headlined the Spokane Comedy Club several times, while Rob Weintz has hosted and featured, and headlined other clubs.
How beloved are these comics? So much so that they get their own "Goodbye/Going Away" show this Sunday. It's one of a string of farewell shows before they become singing cowboys. Next time you see them in the Lilac City, it will be as touring stand-ups.
Adam Ray
Adam Ray hosts the "About Last Night" podcast. He plays Vince McMahon in NBC's Young Rock. Other TV appearances include cult favs Curb Your Enthusiasm, and Arrested Development. He was in The Heat with Sandra Bullock and Melissa McCarthy, the gender-swapped Ghostbusters reboot with Kristen Wiig, Kate McKinnon, Leslie Jones, and Chris Hemsworth. He's also a prolific voice-actor whose credits include Dreamworks' Trolls, She-Ra, and Adult Swim's Rik and Morty. So you know, he's done a few things. 😉
Beth Stelling
Beth Stelling's is one of The Standups on Netflix, and her HBO Max special, "Girl Daddy" is an audience-pleasing and critical hit. She was also a writer for the Judd Apatow produced Pete Holmes series Crashing, which they should still be making, dammit! Stelling has a theater and improv background, and sharpened her comedy skills on the mean streets of Chicago. Also on their stages. And Chicago's not so mean... Lovely architecture. 
Michael Winslow
Michael Winslow has a great life story to share in the video above. You may know him as the "guy who makes those noises" in the Police Academy movies, and Mel Brooks' Spaceballs. From the Gong Show to America's Got Talent, and wild success in between, Winslow is a true original in the field of entertainment. Now is your chance to see this self-described "Voicetramentalist."
The 10 Worst Romantic Comedy Clichés Of All Time
Here are the most annoying tropes we're tired of seeing in rom-coms.
Infamous Movie Mistakes That Can Be Easily Explained
Viewers love to make fun of these errors in movies. But it's not hard to come up with in-story explanations for every one of these infamous mistakes.