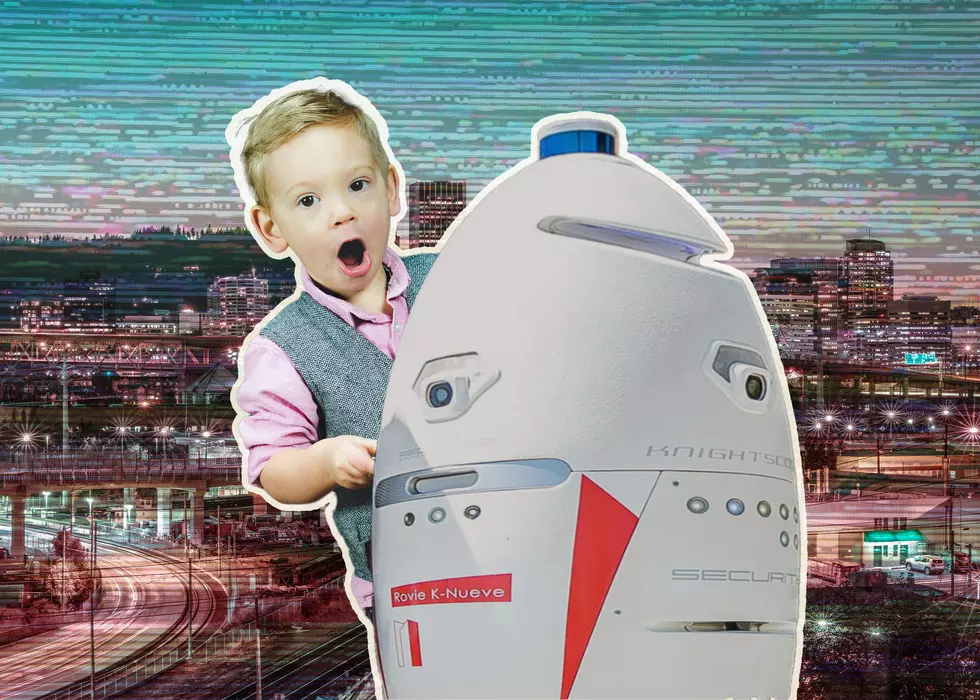 Ever see the movie Robo-Cop? It's a sci-fi flick about a wounded cop whose life is saved when a corporation turns him into a Cyborg. The film was a big hit back in the 80s with it's over-the-top violence and satirical humor. But it also seemed far-fetched; a comic-book vision of the future.
Turns out Robo-Cop may have predicted the future better than many other science-fiction films. Because I still don't have a lightsaber, a flying car, or a time machine, but the day when police officers work alongside robots is here - in it's early stages - but here.
The robot above, which looks like a droid from Star Wars, has been employed since 2015. It's called K-5, and it's the flagship Autonomous Security Robot of a company called Knightscope. The Huntington, CA Police Department "hired" the 'bot, and they are very aware of the movie Robo-Cop, as you can see from the picture above.
Portland Hotel's Robot Security Guard
Knightscope's futuristic robots came to my attention because of the Aloft Hotel in Northeast Portland. In need of a security upgrade, they passed on hiring any "Paul Blart, Mall Cop" types, and  opted for  "a turboed-out R2-D2," as they told their local FOX affiliate.
Aloft's robot is called Robby (a popular name for robots), and Robby looks like the robot in the photo above. Robby patrols the hotel's parking lot day and night and pings the front-desk when he encounters a human. That human can decide whether authorities need to be called in.
Not only has Robby improved security, but guests love the novelty of the droid, posing for Instagram-worthy pictures.
Aloft seems heavily invested in robots, the hotel chain even has "robot butlers" at some locations.
Why Robot Security Guards?
According to the Knightscope website, the company was created "in response to the tragic shootings at Sandy Hook, the Boston bombings, and the attacks of 9/11." They say they want to make the United States the safest country on earth. A tall order, these days. But at least they're making a remarkable effort.
And these "Robo-Cops" don't have to put Paul Blart out of a job. They can just as easily work alongside him. But why put Paul's life at risk in extreme situations? Wouldn't it be better to send a robot in to negotiate, or take down a threat? We're not quite there yet. But we're getting closer.
This Old Idaho Waterpark Looks Like a Dystopian Future
When Boise's Wild Waters waterpark closed to make way for the Flying Y, the abandoned park didn't sit there very long. The one in Coeur d'Alene? That's a different story. It closed for "renovations" in 2009 but never reopened. It sat there decaying until it was finally demolished in 2018. YouTuber "adamthewoo" explored the park and shot video of it in 2016. These are some of the best images from that video!
10 Actors Who Predicted Their Future Roles
These actors expressed interest in playing certain roles in movies and on television, and ended up winning the part.