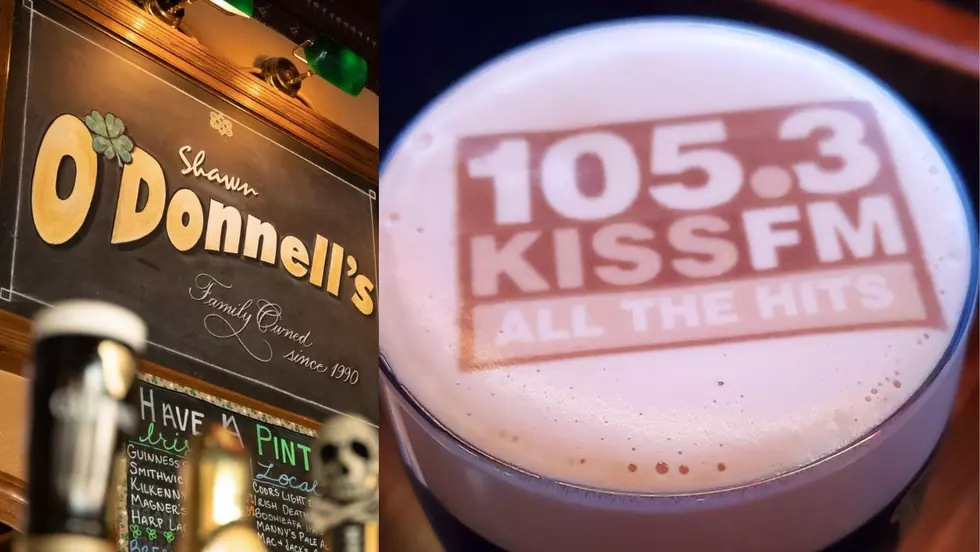 How To Make Delightful Guinness Art At Spokane Pub
Left: Shawn O'Donnell's Spokane Facebook. Right: Dan Roberts
If you order a pint of Guinness at Shawn O'Donnell's in Spokane, you'll get an extra little surprise: an image on the head of the traditional Irish stout. It's the kind of detail that you might expect at a Disney Park (there are some places you can drink in the parks), a touch of "magic" to brighten your day.
Today you're going to learn how they paint that Picasso on the foam of your Guinness. And how you can submit your own drinkable masterpiece.
How Do They Write and Draw on My Guinness Head?
Do you have to take fine art and graphic design classes to pour a damn pint of Guinness at Shawn O'Donnell's? I had to know, so I called up the popular bar and restaurant and go the 4-1-1 from Chase, a Managing Partner in the family-owned Washington chain.
"This is kind of cheating, I guess," Chase tells me. "This is relying on technology. It's like an inkjet printer at your house, and it sprays tiny droplets of edible ink. It's just malt extract."
The technology is the Ripples printer, Ripples has "ink" for all shades of foam on beverages. Available ink pods are coffee, malt, carrot and glow. Chase thinks O'Donnell's might be the only ones in the state who have it." They're definitely an early adopter on the pub scene.
Sidebar: Not sure WTH glow is, but I'll try anything once.
How Did Shawn O'Donnell's Learn About the Ripples Printer?
"Well, we first heard about the printer from Guinness a year ago. They brought it for St. Patrick's Day, and I thought they were opening just a box of magic," Chase shares enthusiastically.
I said, 'what is this sorcery?'
"And they explained to me everything I just explained to you about the malt extract and printing on the head of the Guinness. And I said, 'We've got to get one. This is incredible.' And obviously, we pour a lot of Guinness and we take a lot of pride in pouring the perfect pint. And I think this just takes it over the top that you can put your photo or your business logo... On the head of your Guinness.  No one else has this and no one else is doing this."
How Can I Submit an Image for My Guinness Head?
Ripples has thought of that, too. They have an app that converts your image for the printer. Any photo or drawing will do, but high-contrast images work best.
"You can send a photo from your phone to our (Shawn O'Donnell's) printer," explains Chase. "And we can print your photo on the top of the head of a Guinness."
It's awesome. And I've been drinking Guinness Zero, which comes from a can, not a nitro tap, but O'Donnell's has been kind enough to pour it into a pint glass and and do that for me as well.
Does It Cost Extra to Print a Picture on My Guinness?
Chase says no. "No extra charge. It's completely free. We just want you to come and have a good time. And we want you to come back again. That's the point of it all."
Sláinte!
You can print on your Guinness head at Shawn O'Donnell's Spokane and Everett locations, with plans for printers at their other locations in the future.
The Most Instagram Worthy Bars and Restaurants in Boise
10 Tri-Cities Dive Bars That Serve Up Mouth-Watering Delicious Food
Here are our picks for some of the best places to get the tastiest bar food grub in the Tri-Cities. I look at the word "dive" bar and don't think of it as a negative. I've found some of the best food in the unlikeliest of places. Here are 10 bars in the Tri-Cities that serve up some great food.